Remover Pen™ for Moles
Remove skin tags and other skin imperfections painlessly, safely, and in your own home, at a fraction of the cost. This is the secret to the silky-smooth skin flaunted by celebrities and supermodels is no longer expensive plastic surgery.
You Are Beautiful! Keep Your Head Up
Wave goodbye to unwanted skin tags, warts, wrinkles, loose skin, sun spots, age spots, acne scars and other skin imperfections.

The Remover Pen™ for Moles is a revolutionary, non-invasive, at home skincare tool that provides the same brilliant results as professional, in-office fibroblast treatment, at a fraction of the cost.

Your tissues instantly retract and tighten giving you more youthful looking skin and increase collagen production over time.
You Are Not Alone! We Have Been In This Situation
Fibroblast therapy works by stimulating your skin's natural processes, and acting as a catalyst for collagen, elastin, and hyaluronic acid.

These elements are the secret ingredients to smooth, firm, and healthy skin, boosting their production is a simple and effective way to turn back the clock.

Your body already knows what to do. We're just helping it do it better and more efficiently, in a way that serums and skin creams can't do alone.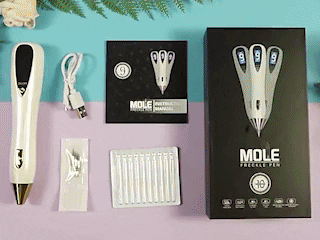 Skin Correction Solution for All Your Imperfections
Up to $1,200 to remove a wart or skin tag?! That's what dermatologists today may charge to treat skin blemishes.

Reasonably-priced treatments are hard to find, and you need a more affordable, non-invasive option that still helps them achieve the smooth skin complexion you've always wanted.

Remover Pen™ for Moles is the breakthrough plasma therapy system that provides skin removal treatments that are safe, simple, and completely pain-free.