Kinetic Art-Perpetual Motion Machine
Perpetual motion machine. I could keep watching it forever.
Marble Perpetual Machine is a very unique, one of a kind toy/decor gadget.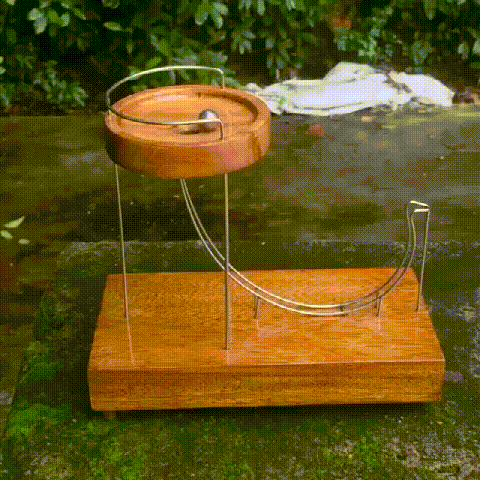 【Kinetic Art Perpetual Motion】- Last Lasts Longer - He won't last forever due to air resistance and friction. Newton's Law Kinetic Art Ball can move continuously for 10-20 seconds. This would be a nice tabletop toy. Good torque and centroid performance. Not only does it demonstrate pendulum motion, but it helps demonstrate the laws of conservation of momentum and energy.
【Science Education with Fun and Education】- Kinetic Art perpetual motion machine is a fun way to learn science - perfect for kids to experience mechanical fun in classroom education or play with this fun gadget. A good scientific educational toy for children, improve children's ability to explore scientific mysteries. A perpetual motion machine for decompression in adults. It's a great focus to release stress after a busy day at work.
【High Quality Material】- Replace cheap plastic with high quality stainless steel. Impressive with a wooden base made of high-quality wood and a unique design concept. Reliable, sturdy accessories for table sports decoration. Use kinetic energy to keep the ball in an infinite loop. Surprise your friends with this clever toy and leave them scratching their heads. everyone will love it
【Wide range of application】- Applicable to psychology, relieve work fatigue and stress. It could be a great desk toy for an adult office. It's also perfect for outer space science themed classes or office decor, or anyone with a passion for science or demonstrating the laws of physics in science class, a great teaching tool for explaining eternal physics. .Perfect for birthday, holiday, christmas, father's day gift.
Details:

- Material: the Wooden parts are made of Doussie (very high quality wood). The wire is made from Stainless steel.
- Dimension: 7in*7in*4in/17cm*17cm*10cm (LxHxW)
- This product is powered by electromagnetic
- Battery powered
- Color: Only the natural color is availble. Please refer to the last listing photo. Please understand that the actual color of the final product may be different from the photo a little; every piece of wood is different.