Bubble Machine Automatic High Power Bubble Machine For Kids Parties
$46.99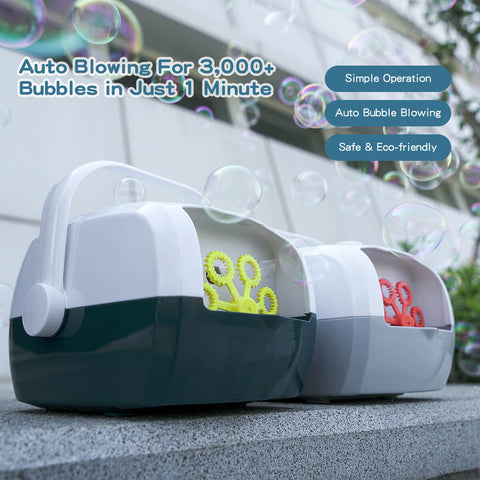 ▶Safe Quality Materials:The bubble machine is made of non-toxic high-quality ABS plastic. The product has excellent toughness and rust resistance.When your hand touches the bubble magic wand, it will automatically stop spinning to achieve protection.

▶Rechargeable Battery:Bubble Blower With 

Rechargeable Battery.

 Let You Enjoy the Bubble Machine Indoors and Outdoors.

▶Atmosphere Creator For Various Scenes:Bubbles made by the bubble machine can bring more fun to people. Beautiful shape with flexible handles It is perfect for your festivals and birthday parties. Stages, weddings, barbecues....

▶Easy To Use:Just fill the tank with bubble fluid, plug in the device, and turn on the power.. It can generate thousands of bubbles. The maximum capacity of the water tank is 400ML, and the longest continuous use time is 2 hours. No need to add bubble water multiple times

▶About After Sales:We take your suggestion very seriously. If you have any questions, please contact us as soon as possible.Our customer service is available 24 hours to answer any questions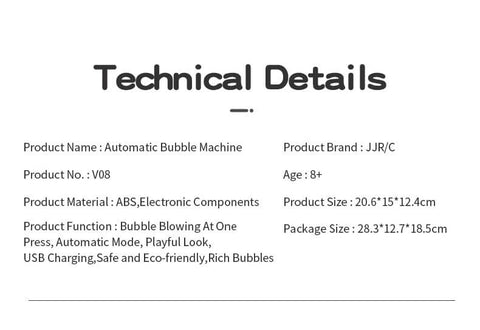 The Best Partner in Party with Friends
Can be used indoors or outdoors. Celebrate birthday parties, playdates, weddings, baby showers, and many more events.
Enjoy the Automatic Bubble Machine
Easy to operate for Kids
1. Place the bubble machine on a solid, flat surface and in a well-ventilated area.
2. Pour bubble liquid into the liquid reservoir. Always ensure the liquid level immerses at least one wand. Do not fill the reservoir over the noted maximum level.
3. Press the Power Button
4. Enjoy the Bubbles
Note:
If you let the soap into your eye by accident, please simply rinse your eyes with water.
Do not stick your fingers in the machine while it is working.
Turn it off when the bubble solution run out.
Not suitable for children under 36 months.
Package Included
1 x Bubble Machine
1 x Instruction Manual