Alarm Clock Wake Up Light Sunrise, Alarm Clock With Sunrise Simulation Sleep Aid Dual Alarms FM Radio Snooze Nightlight Daylight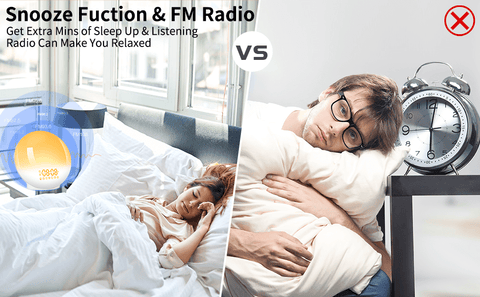 【Wake Up Light with Sunrise simulation】 This Sleep Aid digital alarm clock is designed for everyone in fact, especially for heavy sleepers and kids. Sunrise simulation light with 7 natural sounds will be on gradually from 10% brightness to 100% by 30 minutes before alarm setting time. If you think 30 minutes is too long, you can set the process to 20 minutes or 10 minutes. Wake you up by nature.

【Dual Alarm Clock & Snooze supported】 Considering you may need to set up different alarms for your family member, we designed 2 alarms for you. Also, the function of snooze is specially designed for those who needs an extra 9 minutes to start a fresh day. You just need to press the "Snooze" button at the top of the clock, you will get more 9 mins to sleep. Up to 5 times snooze.

【7 Color Light & 20 Brightness Adjustable】 There are 7 color changing light you can choose, include blue, indigo, purple, red, orange, yellow, green. 3 level LED time display brightness & 20 level lighting brightness adjustable.

【FM Radio & 7 Alarm Sounds】It will be a FM Radio just when you press the "Radio" button on the upper right to switch it on. Long press the "FM Radio" button for 2 secs and it will start and automatically scan all stations with frequency 76 - 108 MHz. It's amazing that you can choose 7 alarm sounds to wake you up, such as Birdsong, Ocean Wave, Streams, Beep, Wind bells, Soft Music, Piano Music. 16 Level volume adjustable.

【Night Light & Bedside Lamp】It is also a Bedside Lamp / Night Light / Reading Lamp. It will be a bedside lamp / night light / reading lamp just when you press the ☀ button on the upper left to switch it on. Also you can press the "+" / "-" button to adjust the brightness. Soft and warm lighting gives you good sight when you feed your baby / go to the toilet / read a book at night.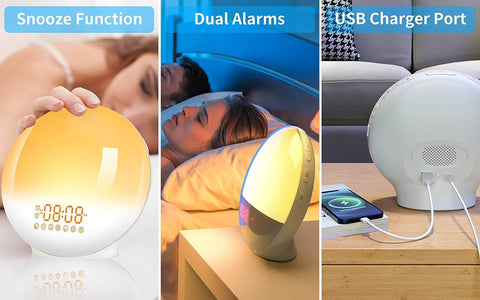 Wake Up Light, Newest Alarm Clock Sunrise Simulation Radio Clock Bedside Night Light with Nature Sounds, FM Radio, Sleep Aid and USB Charger
New& Unique Sleeping Aid Function Alarm Clock Radio:
Simulate the feature of sunset, setting the brightness, duration, sleep music and volume in advance. The light will gradually dim with music, and help you fall asleep quickly. Once it reaches the time you set, the sleep aid function will automatically turn off.
Nature Sounds and FM Radio with Snooze ButtonRadio Alarm Clock:
In addition to FM radio stations, the Wake-Up Light Alarm Clock can also wake you with one of 7 nature sounds(birds singing, ocean waves, streams, beep, windbell, soft music and piano music, and option 8 is FM radio). The Wake-Up Light also offers a snooze function, giving you an extra 9 minutes of sleep.
Packaging list:
1* Wake-up light alarm clock
1* Adapter
1*User manual