Adjustable DIY Flex Screen Max 55"H x 33.5"W, Magnetic Window Screen Fits Any Size Smaller DIY Easy Installation
$45.99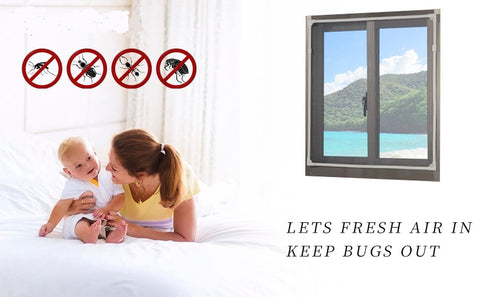 EFFECTIVE WINDOW SCREEN - Let fresh air in. Suitable for all window types, Aluminum window frame, wrought iron grills, sliding window, casement window, louvre bathroom/toilet window and even grilled gates and balcony.

Adjustable Size: the window screen can be cut according to your window's size, ensuring that it is suitable for any window frame. It is both convenient and economical to make window screens by yourself. Support a maximum of 55″x 33.5″ window. Please measure your window prior to your purchase to ensure that our window screen is suitable for your window.

No Construction Required, Easy to Install: back magnets make it easy to install in wood, iron or aluminium windows. Take about 15 minutes to install. Unique window-proof clip is used to make it stay in the place, avoiding to fall. Adjust its opening height and easy to open and close the window screen.

Outstanding Durability: the window screen adopts permanent magnets, which can be repeatedly opened and closed. Thanks to its high-quality materials, precision sewing and high-density mesh technology, it won't be damaged even if you repeatedly open and close the window screen. In addition, it is convenient to clean the window screen because it can be removed.

Package includes: one roll of magnetic strip, one roll of PVC strip, one piece of mesh,one roll of neck magnetic strip,one bag of accessories and an instruction manual. 12 Months Warranty , enjoy a purchase completely risk free. No extra maintenance needed. This is a good one-time affordable investment

Why Choose This Adjustable DIY Magnetic Window Screen
Fits Most Windows Casement windows, sliding windows, single/double hung windows, curved windows, etc. Can be used for Windows made of various materials, such as wood, steel, aluminum, etc.
Easy To Install A magnetic window screen can be installed in 15 minutes, save time and money.
Screen Mesh Replaceable Unlike traditional window screens, our window screens are detachable. It can be replaced with dust proof mesh, pollen proof mesh, sunblock mesh as you need.
Use Powerful Magnets to firmly seal the window.
No Screws Or Drilling Keep the original structure of Windows.
Installation Steps:
Step 1
Apply backing magnetic strip
To remove the protective film from the backing magnetic strip and stick smoothly around the window.
Step 2
Magnetic strip of card suction slot
The card slot magnetic strip is successively adsorbed on the back glue magnetic strip
Step 3
Cut 4 strips of PVC strips about 3cm to make temporary fasteners.Then use the fixator to clamp the net end and right end into the slot magnetic strip temporarily
Step 4
Insert the yarn net into the magnetic strip of the card slot with white PVC strip(the PVC is bent upward, the opening will be larger and it will be easier to install)
Step 5
After installing PVC, install the plastic corner in the corner of the window screen
Then cut out the excess net
Step 6
To clip the wind-proof clips on the outer frame of the main screen window, tear off the backing protective film, and then install in the position of about 30 cm from the top, each on the right and the left.