2021 Shower Head Water Saving Flow
Enjoy A New Experience With Our Fully New Shower Head !
Ultra Comfortable Experience : Our best Shower Heads brings you and your families the best shower experience; The water is fine dense and uniform that make the skin feel gentle and comfortable. Optimized water streams in a full deluge of rain fall that revitalizes your skin and rejuvenates the senses.
Widespread Application: You can shampooing your hair, shower, bathing your kids, washing your dog, and even flush the toilet as much as you want,either men, women or kids to unwind after a hard day with a relaxing rain shower, it's the ultimate way to bring a piece of spa luxury to your home.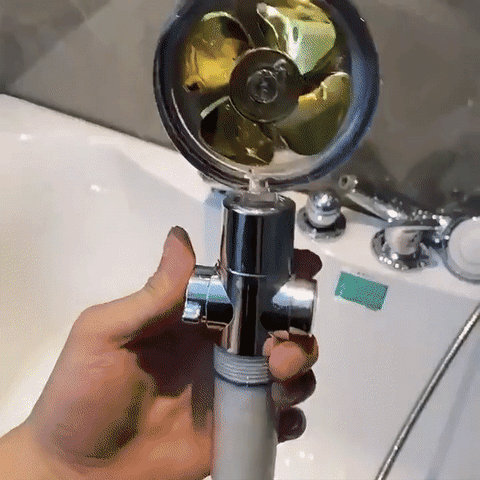 Good Feeling !

- The shower head dispenses water in the form of a net water jet that gently touches your body while showering. Relaxes muscles, promotes blood circulation, and improves the appearance of skin.


WATER-SAVING
Our Shower head uses micro nozzle technology that makes the outlet holes smaller and denser, increasing the speed of the water flow, At the same time accomplishing Up to 40% water saving than ordinary shower heads.



Our hand held shower head Is From High quality ABS material and stainless steel panel, Innovative design, easy to install and clean, environmentally friendly and durable, universal 360-degree rotation.



ON/OFF Switch
The push-button allows you to stop the flow of water from the shower head and lather up with your favourite shower bath at your leisure.
Control Water Pressure :
Easily and quickly adjust the water pressure using the 0-90° regulator.




Easy tool-free connection

No need to call a plumber,Easy installation, simply screw onto any standard shower hose . Can connect to any standard shower hose easily.


Filtration system
For water purification, the filtered shower head is equipped with PP cotton. We also give you an extra PP cotton, which can effectively remove most of the impurities in the water and protect the health and safety of the family's skin.
Specifications :
-Material: ABS Plastic + 304 Stainless Steel
-Product Net-Weight: 140 g
-Water Inlet: 4 points water inlet
-Product Process: Plating
Package included:
1x Power Shower Head + 1x Filter